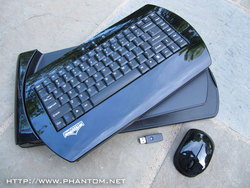 Ridgewood, NJ (PRWEB) August 11, 2010
The Phantom Wireless Lapboard and The Phantom Wireless Laser Mouse together are a combination wireless keyboard and mouse where the keyboard opens to a hard mousing surface at adjustable rotating angles, that enables users to work or play from a couch, easy chair or any comfortable setting for Internet TV, HTPC or Gaming. The Phantom Lapboard is the only wireless computer peripheral which allows the consumer to use a "mobile desktop"; the hardware combination is designed to allow full control of the keyboard and mouse without the need to be sitting upright at a desk. The Phantom Lapboard includes wireless technology, ergonomic design, one-touch features, and a wireless high definition 1200 dpi laser mouse. In addition, the Phantom Lapboard also rotates for left and right handed users and inclines up to a 22 degree angle with a hard surface support for the Phantom mouse that is designed for Internet TV, game-specific and business software applications on PC, Mac, PS3 and other gaming platforms.
With the Internet TV revolution launching this year, the Phantom Lapboard provides consumers with the ability to use this exciting new technology to its fullest potential, not being docked to a table, trackball or touch pad. Consumers can easily utilize all the features of the new Internet TV user interface, which will now marry the television and the internet, from the couch or bed using the Phantom Lapboard. "We at Phantom Entertainment have believed for years that the set-top box would become the primary entry portal for content from TV, internet, games, movies, music and email. The Phantom Lapboard now fills that need for the consumer to interact with the new user interface and enjoy this amazing new technology from wherever any flat screen TV and set-top box is located; living room or bedroom" says John Landino Phantom Entertainment's CEO.
The Phantom Lapboard's unique features: